Sophie's Sweet Potato Carob, Chocolate Balls- GF, DF, Vegan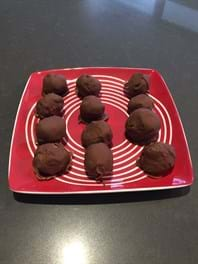 Ingredients:
1 medium sweet potato, steamed and cooled
5 dates
3 tbsps. carob powder or cacao powder
1 tsp. vanilla essence
2 tbsps. coconut oil melted
1/2 cup almond meal
100mg Raw Vegan Chocolate melted
love.
Directions:
In a food processor mix the sweet potato, dates, cacao, vanilla essence and coconut oil for one minute
Add the almond meal and blend until all mixed together.
The mixture is wet so spoon out the mixture and roll with your wet hands into little balls. Lay them out on a tray with baking paper.
Place in freezer for 1-2 hours or refrigerate overnight.
Melt Chocolate over a pan of simmering water then roll the balls in the melted chocolate to coat.
Allow to set on baking paper.
They are now ready to eat.