Lu Lu's Cauliflower and Kale Soup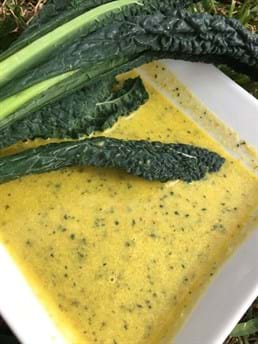 Ingredients:
1 small carrot
1 small celery stick
1 clove garlic
1 heaped tablespoon of coconut butter
15mls of macadamia oil ( or olive oil)
2/3 a large cauliflower cut into florets
1/3 bunch of curly kale ( washed and stripped of stems)
700mls of stock ( *see vegetable stock from above)
optional to add 200mls of rice milk
Love
Directions:
Finely chop in a blender carrot, celery and garlic. Heat oil and butter in a soup saucepan and then saute the blended vegetables for 3-4 minutes. Add stock, cauliflower and kale to the mixture. Bring to the boil and then let it simmer for 25 minutes stirring occassionally. Puree soup in blender once finished with added milk if you choose. Some people would add coconut milk or cream at this point but personally I do not think it needs it and the coconut milk is high fructose and cow's milk mucus forming. This recipe is so healthy and delicious for the whole family.