Legume and Rice Bake - GF, Vegan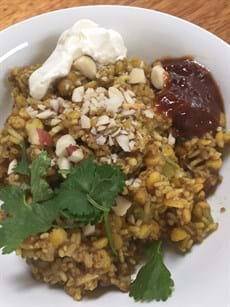 Ingredients
1 cup of dahl or yellow split peas
1 cup of basmati rice
2 teaspoons of cumin seed
1 tablespoon of coriander seed
1 tablespoon of coconut oil
1 teaspoon of mustard seeds
1 tablespoon of fresh ginger chopped finely
1 tablespoon of fresh chilli
1 teaspoon of turmeric
1 teaspoon of garam masala
1 teaspoon of ground black pepper
2 celery sticks chopped finely
2 zucchinis chopped
2 carrots
2 cups of hot water
Brazil nuts or almonds chopped to serve
Coriander leaves to serve
Pinch of himalyan salt
Serve with greek yogurt (optional)
Love
Directions:
Rinse the dahl and rice, then soak in enough water to cover them for a minimum of 2 hours.
Dry roast the cumin and coriander seed in a saucepan until you smell the aroma and see the seeds slightly darken.
Remove the seeds from the pan and grind with a mortar and pestle.
Add oil to the pan and add mustard seeds and fry for only a few minutes until they begin to pop and remove from heat. Do not forget to add the love!
Add the ginger and chilli and return to the heat for a few minutes.
Add the vegetables - celery, zucchini and carrots. Cook for 5-10 minutes.
Add drained dahl and rice with enough boiling water to cover the dish.
Keep on medium heat for 10 minutes, stir and let simmer for 35 minutes.
Serve with chopped nuts, coriander and yoghurt. Sprinkle of salt.