Jack And The Magic Bean Chocolate Cake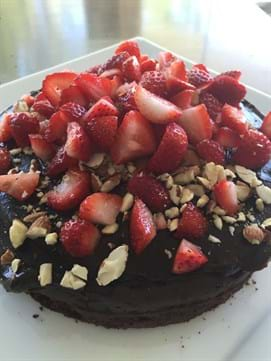 This is sweet and a treat but it shows a really interesting way of doing gluten free dairy free baking. It is not caffeine free and it is very rich.
Ingredients:
400g tin of Kidney beans
1 tbsp. of Water
1 tsp. of vanilla essence
5 eggs
70 g of cacao powder or carob
1 1/2 tsps. of gluten free baking powder
1/4 tsp. salt
1/3 cup of Rice Bran oil or Macadamia oil
170g raw sugar
love.
Directions:
Put oven to 180 degree Celsius and grease smallish round cake tin. In the food processor mix beans, water, vanilla and eggs. Add cacao, baking powder, salt, oil and sugar and process all the mixture. Pour into cake tin and bake for 30 minutes.
FROSTING INGREDIENTS:
2 ripe avocados
1/2 cup carob or cacao powder
1/2 cup of maple syrup
2 tbsps. of soft coconut oil
1/2 tsp. vanilla essence
pinch of salt
love.
Directions:
Mix together and put on cool cake. I put crushed almonds and fresh strawberries on top. Refrigerate. With this kind of frosting it is best kept in the fridge and eaten within a day.