Fish and Rice Noodle Soup - GF, DF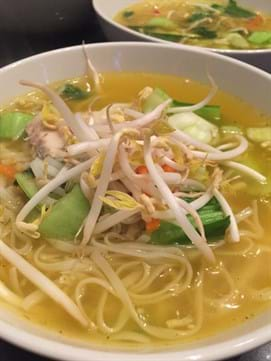 Ingredients
500g of white fish
Packet of rice noodles
1 clove garlic
1 teaspoon of grated fresh ginger
2 lime leaves to be removed at the end
2 teaspoon gluten free soya sauce
1 carrot
1 zucchini
2 teaspoons of coriander seeds
2 bok choy chopped and cleaned
Small bunch of coriander
Black pepper for the fish
2 tablespoons lemon grass cut finely
1/2 cup bean shoots
Love
Directions:
1. Put coriander seeds, ginger and garlic in a saucepan and cook for one minute.
2. Pour in 2 litres of water and put three big tablespoons of homemade stock(*) in the water and bring to the boil then simmer for 5-10 minutes. Leave stand for 10 minutes.
* homemade stock was made in the Thermomix - 700g of left over vegies, two garlic cloves, fresh herbs from the garden (mix for 10 seconds on level 6), add 100g of rock salt and 1 tablespoon of macadamia oil ( mix for 5 seconds on level 6) - then 20 minutes, varoma on level 1.5 - I freeze any extra I make.
3. Add the soya sauce and lime leaves.
4. Prepare the vegetables by cutting them up very finely. I like to have the zucchini as fine as spaghetti so I cut it with a Julienne (fine slicer so the result is zucchini slithers). I add the zucchini to the soup earlier and only add the other vegetables 2 minutes before serving so that they are blanched and just slightly cooked.
5. Cook the rice noodles, drain and also add to the soup.
6. Sprinkle the fish with black pepper and bake in the oven or in a fry pan.
7. Add the cooked fish to the soup mix.
8. Remember to add the vegies 2 minutes before serving and do not forget the love.
9. Remove the lime leaves. Serve with fresh bean shoots. Enjoy!