Cinnamon Sweet Potato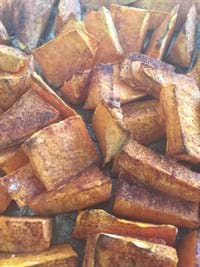 Ingredients:
2-3 sweet potato
1 tspn of cinnamon
Himalayan salt
Macadamia oil
love.
Directions:
Peel and cut the sweet potato into wedges. Put on oven tray. Sprinkle with cinnamon and drizzle with oil.
Cook in 180 degree Celsius oven for 40 minutes. Turn after 20 minutes. Enjoy.