Chai Tea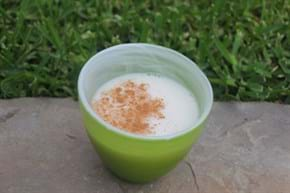 Ingredients ( to serve 4)
4 cups of rice milk
Grate 1/2 teaspoon or Ginger put it in a metal teabag ( we have these for sale at Possum Hollow)
Pulverise 2 cardamom pods
1 teaspoon of cinnamon
3 cloves pulverised
LOVE
Directions
Put all ingredients in a saucepan and slowly bring to the boil as you are stirring.
Once it has not quite boiled turn off the heat - put the lid on the saucepan and let it sit for 7 minutes.
Add brown sugar or honey only if needed - you will generally find it sweet enough.