Cauliflower Rice - GF, DF, Vegan, Fructose low, Paleo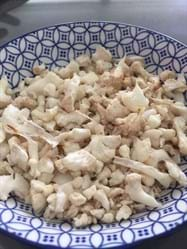 Ingredients:
Cauliflower - check it is not brown in any way and cut off all green parts
Baking paper
Love.
Directions:
Put cauliflower in food processor or grate it up. Do not cut up too fine. Spread what you feel you will need on baking sheets and cook in 240 degree Celsius. The excess of cut up cauliflower can be frozen in containers. Spread it thin on the baking paper so no lumps. Cook for 15 minutes flipping at least once in this time. Serve as a replacement for rice.