Buckwheat Wraps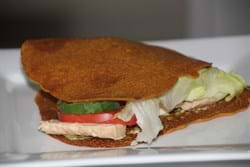 Ingredients:
200mls of freshly juiced organic Carrot juice
100g of Buckwheat flour
1 teaspoon of Lupin flour
A pinch of Nutmeg
Macadamia oil for cooking
Directions:
Whisk ingredients together. Lightly oil a frypan and pour in the mixture cooking them individually like crepes.
As they are made, lay them on a plate with brown paper in between. They can be used as wraps or I used it here in the photo as a form of sandwich. Great with avocado or salad. In the fridge these wraps keep for up to 3 days. I can usually make up to 8 wraps with this recipe.