Banana Bread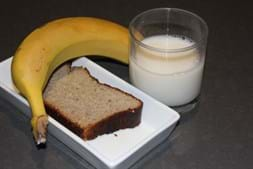 Ingredients:
4 bananas
6 eggs
4 dates
2 teaspoons of vanilla essence
60-ml of rice bran oil
1/2 teaspoon of cinnnamon
2 teaspoons of gluten free baking powder
70 grams of coconut flour
20grams of soaked Chai seeds
Love.
Directions
Blend up banana, eggs, dates, vanilla, cinnamon, baking powder, oil together then add coconut flour and lastly the chai seeds. Leave mixture for ten minutes. Pour into loaf tray and bake in oven 180 degree Celsius for 40-50 minutes. Leave to cool. Can be left refrigerated for up to one week.