Oils, Butter and Margarine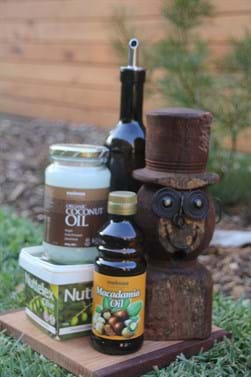 What do we need to know about Vegetable oils and margarine?
Vegetable oils (and margarine, made from these oils) are oils extracted from seeds like the rapeseed (Canola oil) soybean (Soybean oil), corn, sunflower, safflower, etc. Until the early 1900's they were basically nonexistent in our diets as they commonly chemically extracted.
Unlike butter or coconut oil, these vegetable oils can't be extracted just by pressing or separating naturally. They must be chemically removed, deodorized, and altered. It is strange that they are promoted as healthy when they are some of the most processed foods on this planet.
Vegetable oils are found in practically every processed food, from salad dressing, biscuits, bread, dips, mayonaise to roasted nuts and seeds. These oils are some of the most harmful substances you can put into your body. This is why it is so important to read your labels well and know what is in your food. Where possible make your own foods from scratch so you know what is in them.
The positive is that if you search carefully there are some organic oils being used. These are made from squeezing the oil out of the seed under pressure. The aim is to remove as much oil from the seed without compromising on quality. In this way they are NOT removing the oils with chemicals such as solvents.
How are Vegetable oils made?
Vegetable oils are manufactured in a factory, usually from genetically modified crops that have been heavily treated with pesticides.
Common Canola oil, for example, was developed by making a hybrid version of the rapeseed. I do not know how this could happen when rapeseed oil contains high amounts of the toxic erucic acid, which is poisonous to the body. Canola (modified rapeseed oil) is produced by heating the rapeseed and processing with a petroleum solvent to extract the oil. Then a second process of heat and addition of acid is used to remove nasty solids (wax) that occur during the first processing. At this point, the newly created Canola oil must be treated with more chemicals to improve color and separate the different parts of the oil. Finally, since the chemical process has created a harsh smelling oil, it must be chemically deodorized to be palatable.
If the vegetable oil is going to be made into shortening or margarine, it undergoes yet another process called hydrogenation to make it solid at cold temperatures. Unlike saturated fats (butter, coconut oil, etc.) vegetable oils are not naturally solid at these temperatures and must be hydrogenated to accomplish this. Hydrogenation is dangerous as it will produce trans fats. Trans fats are contaminants introduced by a side reaction on the catalyst in partial hydrogenation. Although trans fats are edible, consumption of trans fats increases the risk of heart disease by raising levels of the lipoprotein LDL (so-called "bad cholesterol") and lowering levels of the lipoprotein HDL ("good cholesterol").
It makes you want to read your labels in your pantry again and see what you have that has these oils as ingredients. Some people choose to use margarines as dairy alternatives but in reading the ingredients of one common dairy free margarine you find :
Lactose free, Gluten free Olive Margarine Ingredients:
Vegetable oil 65%( Olive oil 21%) water, salt, emulsifiers(471 sunflower lecithin),
flavour, vitamin A, D2, E.
How does butter compare to Vegetable oils?
To make butter you simply milk a cow and let the cream separate naturally. Then you skim off the cream. Lastly you mix this cream until it makes butter. Butter is a much less processed food.
Before vegetable oils and margarine many people got their fats from meat, lard, butter and cream. However, through marketing people were told to reduce "artery clogging fats" and use margarine and vegetable oils instead.
Butter, coconut oil and avocado are your best solutions as a spread. However do not use butter if you are lactose intolerent.
These charts are very interesting:
Canola oil goes up and butter goes down. Hopefully this changes in the future and the healthy oils go up.
Soybean oil production and consumption.
Corn oil:
Human bodies are simply not designed to consume processed oils. The body needs fats for rebuilding cells and hormone production, but our body's fats are made up of 97% saturated and monounsaturated and only 3% polyunstaurated fats. So when we consume mostly polyunsaturated fats like those found in margarine and vegetable oils our body is not able to utilize it in the right way. On eating a high concentration of polyunsaturated fats, our bodies are forced to incorporate these bad fats into our cells during cell repair and cell division. This is not good.
The problem with polyunsaturated fats is that they are highly unstable and oxidize easily in the body and cause inflammation and mutation in cells. In arterial cells, these mutations cause inflammation that can clog arteries. If these fats are incorporated into skin cells, their mutation can causes skin cancer.
When these oils are incorporated into cells in reproductive tissue, some evidence suggests that this can encourage problems like endometriosis and PCOS. In short, the body is made up of saturated and monounsaturated fats, and it needs these for optimal health. The body needs Omega-6 and Omega-3 fats in balance, preferably a 1:1 ratio. Most people consume a much higher ratio of Omega-6 fats, and this can lead to problems. For instance Grapeseed oil has a ratio of 76:1, Safflower oil 78:1 both are not an advisable oil to consume. Macadamia oil has a ratio of 1:1 which is fantastic.
Omega-3s have been shown to reduce inflammation and be protective against cancer, whilst too many Omega-6 fats in the diet cause inflammation and increase cancer risk. Imbalance of these fats can also cause damage to the intestines and along with processed grain consumption can set the body up for a host of food allergies and auto immune problems.
Vegetable oils oxidize easily and so antioxidants such as Vitamins A, C and E in our bodies are used to try and neutralize oxidization, which in turn causes our body to become depleted in these vitamins. To counteract this most vegetable oils and their products have added BHA and BHT (Butylated Hydroxyanisole and Butylated Hydroxytoluene) which are artificial antioxidants that help prevent food from oxidizing or spoiling too quickly. These added chemicals are not the answer and not safe.
In summary the main oils to AVOID are Canola oil, Vegetable oil, Corn Oil, Soyabean oil, Peanut oil, Sunflower oil, Safflower Oil, Cotton seed oil, Grapeseed oils and margarines. There is absolutely no nutritional need for these oils.
While it is simple enough to avoid these oils themselves, the tougher challenge is avoiding all the processed foods they are in.
Here are some dried biscuits with no Vegetable oil:
Orgran - Deli Crackers, Crispbread with quinoa, Crispbread with buckwheat
Ceres Organics - Rice crackers
It is quite difficult to actually find products that are free of vegetable oils or that only use organic oils so I put it to everyone to email me on maedy@possumhollow.com.au any foods or recipes that you can find or that you know of that contain healthy oils. We will share all your wonderful ideas in our next newsletter and the best email received will receive a FREE massage at Possum Hollow.
Oils and Fats to Use Freely - YES THE GOOD OILS.
There are so many wonderful and healthy fats that are beneficial to the body, so there is no reason to consume the unhealthy ones above. Fats that can be consumed for optimal health are:
Coconut Oil - Coconut oil is derived from Coconut meat. Filled with Medium Chain Fatty Acids and Lauric Acid, Coconut oil is an all star of the saturated fats. Since the fat composition in cells in the body is largely saturated fat, it is important to get enough of it from healthy sources. Coconut oil does not oxidize easily at high temperatures or go rancid easily, making it a good choice for cooking and baking. It also makes a great natural moisturizer and can be substituted for butter. It is 91% saturated fat
Olive Oil - High in monounsaturated fats and low in polyunsaturated fats, Olive oil is a great oil for salad dressings, home made mayonnaise, and cold recipes. Olive oil is NOT ideal for heating as the ratio is 12:1 and the smoke point is not as good as that of Macadamia oil
Palm Oil - Has a high saturated fat content and is also heat stable. WARNING - Sources claim that Palm oil production encroaches on the natural habitat of our Orangutans but if you can find sustainable versions it may be an option. Orgran is a vegan and gluten free food company and they use Palm oil. They source it from Malaysia and Indonesia. Orgran have an ongoing commitment to source their Palm oil from Roundtable for Sustainable Palm Oil ( RSPO) - for more information visit www.rspo.org. If in any doubt with other products, just use coconut oil
Avocados and Avocado Oil - A good source of monounsaturated fats great on salads or in guacamole. It is an oil with a slight greenish tinge. It is highly monounsaturated. Avocodo oil is good for Vitamin E as well as beta- stisterol
Fish - Are naturally high in Omega-3 fatty acids and can help improve the Omega-6/Omega-3 balance in the body. This oil SHOULD NEVER BE USED FOR HEATING and is generally only consumed in the form of a supplement. Eat fish for their oil but look for sustainable wild caught sources and stick to small fish like sardines, salmon, etc to minimize exposure to mercury
Eggs - Another star in the healthy fats community, eggs are loaded with vitamins, healthy fats and necessary cholesterol. Consume them regularly from free range sources
Macadamia Oil - Macadamia Oil contains the highest amount of monunsaturated fats on the market, making it an extremely stable oil. It has a high smoke point which means it is not damaged with heating and can safely be used in cooking.
Flaxseed Oil - This oil has a simply excellent ratio of Omega-6/Omega-3 BUT IT SHOULD NEVER BE HEATED, must be kept in the fridge and will only last in the fridge for 2 months once it has been opened. This is because it has a really low smoke point value and oxidises quickly.
Rice Bran Oil - I mention this one here as it has a high smoke point so is not damaged by heating and is a good alternative for baking, especially if your cooking needs to be nut free. In saying this it has a ratio of 27:1 of Omega-6/Omega-3 so nowhere near as nutritious as other oils.