MAST CELL ACTIVATED SYNDROME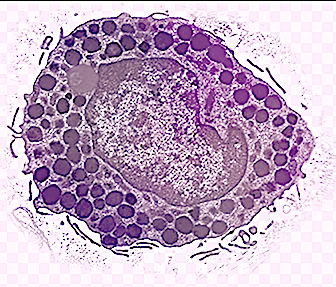 17-20 % of the population may have this newly recognized syndrome. There is more diagnosis in Europe than USA but it is worth knowing about especially if you present with MCAS listed symptoms. A mast cell is a single cell that can behave, for example, as an immune cell, an endocrine cell or even as a sensorial neuron. Due to this, mast cells can significantly influence inflammation, tissue remodelling, host defence and homeostasis.
It is a form of white blood cell related to basophils. Yet they are individual cells and not the same or copies. Mast cells are found in most tissue of the body – they are in higher concentration where they are in close contact of the external environment – such as skin, uterus, airways and intestines.
MCAS is where there is an inappropriate release of mast cell mediators
It does not mean there are more mast cells.
Mast cell mediators can be histamine, heparin, serotonin, IL-6, IL-1, TNF alpha, interferon-Y, TGF- B, chymase, tryptase
Clinical Manifestations
Abdominal- pain, cramping, bloating, diarrhoea and/or constipation, non-cardiac chest pain, H. Pylori gastritis, malabsorption, abdominal bleeding
Oropharyngeal - burning pain, aphthous ulcers
Respiratory – cough, asthma like, dyspnea, rhinitis, sinusitis
Hepatic – Splenomegaly, high bilirubin, elevated liver transaminases. high cholesterol
Lymphatic – Lymphadenopathy
Cardiovascular – Tachycardia, BP issues, syncope, hot flushes, postural orthostatic tachycardia syndrome(POTS)
Neuropsychiatric- Headaches, neuropathic pain, polyneuropathy, decreased attention span, concentration down, forgetfulness, sleeplessness, vertigo, light headness, tinnitus
Skin- urticarial, hives, pruritus, telangiectasia, flushing, angioedema
Muscular skeletal- muscle pain, osteoporosis and osteopenia, bone pain, migratory arthritis
Bladder – cystitis
General– Fatigue, fevers, environmental sensitivities
Triggers
Environmental
Pathogens
Viruses – eg. CMV
Bacteria
Fungus/mold
Parasites
Toxins
Microbial
Heavy metal
Pesticides/ glycophosphates
BPA
Alcohol
Stress
Hormones- estradiol. The uterus is full of them and so period time can be worse.
Microbiota - gut lining
Diet – High histamine foods can aggravate, however I believe are not the cause, of MCAS.
Testing for MCAS
It is very hard to test in Australia.
Histamine plasma > 8mmol/L
Chromogronin- A – 2 assays normal is 0-15ng/ml 0r 1-95ng/ml
Test for triggers mentioned above
Staining on tissue- CD117+
Treatments
ORTHODOX
H1 blockers – loratadine, fexofenadeine, cetirizine, diphenhydramine, hydroxyzine
H2 blockers – ranitdine, famotidine, cimetidine
Leukotriene inhibitor- montelukast, zafirulast
Mast Cell Stabilizers- cromolyn sodium, ketotifen
Corticosteroids
Benzodiazepines
Low dose Nalterexone
Omalizumab
Imatinib
NATURAL REMEDIES and APPROACHES
Low histamine eating - see below
Quercitin- better than cromolyn sodium. Found in foods like moringa (comparable to ketotifen), capers, Note -Bad for gene SNP -COMT AA
Watercress
GABA and pregaba
Progesterone and plant based progesterone
Testosterone and plant based testosterone
Melatonin
Ginger is a H2 blocker and a mast cell stabilizer
Pea Sprouts- plant amine oxidase high in DAO
Olive Extract
Berberine – binds heparin, Potent CYP2D6, CYP2C9, inhibitor and weak CYP3A4 inhibitor.
Andrographis – interferes with T cell activation decreasing autoimmune response and has antimicrobial properties. Decreases T cell response/ decreased Th2. Decreased IL- 10, TNFa so decreases inflammation
Inhibits NF- KB
Curcumin- mast cell stabilizer
Resveratrol- mast cell stabilizer
Broccoli sprouts
Methylation – MTHF, B12, B2, B6
Antihistamine Herbs and Spices-Amaranth seeds, anise, basil, berberine, caraway, chamomile, chili powder, cinnamon, clove, curry powder, echinacea, wild oregano, fennel, fig, ginger, ginkgo, grapefruit, nutmeg, passionflower, tarragon, turmeric, skullcap, thyme, yarrow, papaya, reishi mushroom, stinging nettle

If histamine production is increased due to mast cell production it is worth considering a person's current orthodox medications. This is a list of orthodox medications that can influence histamine levels. If a person with this condition is on these then it could be making the condition more complicated. If concerned discuss with your medical doctor.

• Non-steroidal anti-inflammatory drugs (ibuprofen)

• Antidepressants (Cymbalta, Effexor, Prozac, Zoloft)

• Immune modulators (Humira, Enbrel, Plaquenil)

• Antiarrhythmics (propanolol, metaprolol, Cardizem, Norvasc)

• Aspirin – Histamine liberator

• Amitriptylene – DAO blocker

• Valium – DAO Blocker

• Lasiks – DAO Blocker

• Codeine – Histamine Liberator

• Augmentin – DAO Blocker

• Chloroquinine – DAO Blocker and Histamine liberator

• Quinine – Histamine liberator

• All X-ray contrast – Histamine liberator

• Metoprin – HNMT blocker

• Opiates (Heroin/Morphine…) – Histamine liberator

• Thiamine/Vit B1 – Histamine liberator
Dietary Recommendations and Histamine
While eliminating high-histamine foods from your diet is a great idea, diet alone is NOT a long term correction. It is a multifactorial approach that helps the most. Treating the triggers is a good start.

• Avoid or reduce eating canned foods and processed or ready-made meals.

• Avoid or reduce eating ripened and fermented foods (older cheeses, alcoholic drinks, products containing yeast)

• Histamine levels in foods vary, depending on how ripe, matured or hygienic the foods.

• As much as it is possible, only buy and eat fresh products.

• Don't allow foods to linger outside the refrigerator – especially meat products

AVOID or LIMIT FOODS HIGH IN HISTAMINES


• Alcohol – esp. wine, champagne and beer.

• Pickled or canned foods – sauerkraut, pickles, mayonnaise, olives

• Matured cheeses, including goat cheese

• Cured/Smoked meat products – salami, ham, sausages, bacon, salami, pepperoni, lunch meats and hot dogs

• Shellfish

• Various species of fish: mackerel, mahi-mahi, tuna, anchovies, sardines

• Beans and pulses – chickpeas, soy beans, peanuts

• Nuts – walnuts, cashew nuts, cashews, and peanuts

• Chocolates and other cocoa based products

• Avocados, eggplant, spinach, and tomatoes

• Most citric fruits, apricots, prunes, dates, figs, raisins

• Wheat based products

• Vinegar

• Processed and Ready-made meals

• Salty snacks, sweets with preservatives and artificial colourings

• Soured foods: sour cream, sour milk, buttermilk, sour dough bread
Foods that are Histamine Liberators

• Most citric fruits – kiwi, lemon, lime, pineapple, plums…

• Cocoa and chocolate

• Nuts
• Papaya

• Beans and pulses

• Tomatoes

• Wheat germ

• Additives – benzoate, sulphites, nitrites, glutamate, food dyes

AVOID Drinks that are Diamine Oxidase (DAO) Blockers

• Alcohol

• Black tea

• Energy drinks

• Green tea

If you feel this might fit your symptoms and need to speak to a practitioner about this please let us know and we will find you an appointment. For Bookings click here