Buckwheat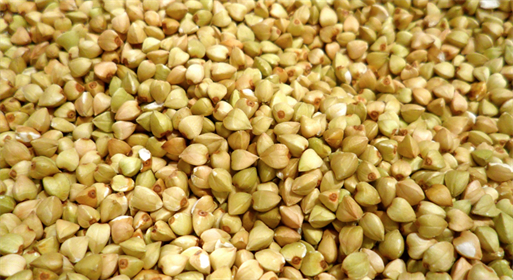 Do you use buckwheat?
Do you know it is not classified as a grain so it is wheat free and gluten free?
Buckwheat is a fruit seed not a grain at all.
Buckwheat is related to the rhubarb family.
Buckwheat health benefits
lowering the risk of high cholesterol and high blood pressure. It helps lower LDL( linked to cardiovascular disease) and increase HDL( health promoting cholesterol)
is high in flavanoids particularly rutin
is high in magnesium. Magnesium relaxes the body
buckwheat lowers blood sugar level and the insulin response so can help in diabetes
it satisfies hunger
being an insoluble fibre it has been known to help gallsone prevention
it lower triglycerides
Hulled buckwheat kernals ( called groats) are pale tan to green while the roasted buckwheat groats are known as Kasha - a staple food in Europe- are brown in colour with a nutty flavour. This product has been cultivated for at least 1000 years in China, Korea and Japan where it is often enjoyed in the form of buckwheat noodles.
Buckwheat contains more protein than rice, wheat, millet or corn. It has many amino acids but especially Glutamic acid, Serine, Glycine, Alanine, Arginine, Lysine and Leucine. Amino acids are some of the most important nutrients as they are the building blocks to repair and improving our health.
So lets give it a go. Buckwheat is like wheat to taste but denser with less starchiness. You can substitute it for flour in cookies, pancakes and crackerswithout adding xanthum gum or poato starch. It can make things a little drier but I add a little more oil to the recipe or some lupin flour or both to help this concern. Products worth trying using buckwheat are buckwheat flakes for a breakfast cereal, buckwheat cruskits as a dried biscuit. and of course the buckwheat noodles.
Buckwheat Crackers
1 cup of buckwheat flour
1/2 tspn baking soda
1/2tspn cinnamon
pinch of salt
2 tblspns of coconut oil
1/3 cup of raw sugar
1/2tspn vanilla essence
1/4 cup of water
Cream oil and sugar. Add vanilla essence. In a seperate bowl mix dried ingredients. Add water sparingly until the dough is achieved. Form a dough of 2 cm hheight and wrap in glad wrap to put into the fridge for a time. roll it out with a rolling pin then peel off the plastic. Cut in to rectangles and poke a couple of times with a fork. Bake at 18o degrees Celcius for 25 minutes.
Buckwheat Crepes ( 8 crepes)

Buckwheat crepes have been made in France for years. It is a slightly nuttier flavour than traditional crepes but so much easier to digest.
3/4 cup of buckwheat flour ideally ground yourself
1/4 cup of ground almonds
1/2 teraspoon of salt
1 1/4 cups of milk or rice milk or almond milk
3 eggs
4 tablsppons of butter or Nuttelex or macadamia oil or Rice bran oil
1. Blend milk,melted butter or oil and eggs together
2. In a small bowl mix the flour, almonds and the salt.
3. Add moist ingredients and only pulse blend til combined.
4.Ideally leave the mixture for 2 hours before making the crepes. You can even refridgerate over night.
5. To cook crepes heat up crepe pan and melt 1/4 teaspoon of butter for each crepe
Pour 1/4 cup of crepe mixture in to the crepe pan and swirl the crepe pan to spread the crepe around it. Cook for one minute on each side and then remove the crepe to put on a plate whilst the others are being cooked.
Gluten free Buckwheat Blueberry Muffins
1/2 cup of light buckwheat flour
2 tabspnns of whole raw buckwheat groats
2 tblspnns of chia seeds
2 tblspns of ground LSA
5 tablspns of water
1 tspn of cinnnamon
1 banana
1 tablspn of vanilla essence
1 tablsppon of coconut oil
1 tablespoon of maple syrup
1/3 cup of almond or rice milk
1/2 - 3/4 cup of frozen( not thawed) or fresh blueberries
Preheat the oven to 180 Degrees
Mix the LSA with the 5 tblspns of warm water and set aside.
Grind the buckwheat wheat flour and the chia seeds together.
Put all the dry ingredients in a bowl including the cinnamon
Separtely mash the banana and add the vanilla, LSA mix,maple syrup, milk of choice and melted coconut oil,
Add the dry ingredients and mix well then add the blueberries and gently mix til combined.
Divid between 6 greased muffin tin cups. You may want to line them with paper liners as they can stick. They will stick so grease well.
Bake for 28- 32 minutes. Serve warm.