Balance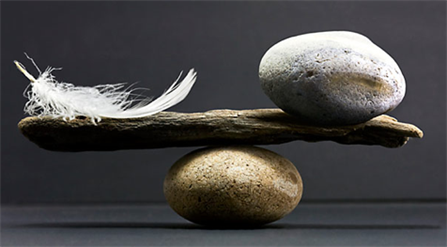 During many phases of our lives we reassess the balance of activities to see if we really are happy and fulfilled, or are we doing to much and over commintted. Certainly at times in our life whether with injuries, emotional trauma, or sickness, people may reflect and reassess their lives. With this reassessment you can find an inner healing that can be quite profound.
People go through life, add things, strive for success, add more activities, add more commitments and before we know it we can drop in energy, get sick or feel unhappy. So what can we do about it and where do you start?

The word BALANCE means- "when things are equal or in correct proportion"
Internal (Mind, Heart, Health)
Mind: Challenging yourself intellectually vs. creating opportunities for your mind to rest
Heart: Giving love vs. receiving love.
Health: Eating, drinking, exercising properly vs. resting and treating yourself to some extra yummies.
External (Work, Social, Family, Fun)
Work: Pushing yourself to achieve goals vs. seeing the bigger picture and enjoying the ride
Social: Satisfying your social desires vs. taking time for yourself
Family: Fulfilling your familial responsibilities vs. creating healthy boundaries
Fun: Allocating time for things you enjoy doing vs. making sure you don't overdo it.
As you can see, both ends of each spectrum are actually positive; but if either side is taken to an extreme, something that is intended to be positive can end up being out of balance.
It's helpful to check in honestly with yourself to see if you feel your life is balanced.
So here are some steps you can take to make some changes:
1. Write it down
One way of seeing things clearly is to write your life down. Try writing all the things you do in your week and catergorise them. My example
Activity
hard work
task
enjoyable
energizing
tiring
fills your heart
fun

Exercise

- Gym

- Bike

- Dance

Yes

No

No

Yes

No

No

No

Yes

Yes

No

Yes

Yes

No

Yes

Yes

No

Yes

Yes

No

Yes

Yes

Certain Meeting
No
Yes
No
No
Yes
No
No
Being with friends
No
No
Yes
Yes
No
Yes
Yes
2. Set Goals
Look at the outline to help you decide which ways you want to balance your life. Make a list of goals and take action to see the changes do happen. You can make changes today.
3. Plan
Make a list of daily, weekly, and monthly activities that you will need to do to achieve each of these goals . What have you tried in the past? Did it work? If not, what can you do differently?
4. Reflect
What is the most important thing you've accomplished in the past? How did you stay focused toward this goal? How did you handle your fears, doubts, anxieties, worries, and negative self talk? If it did not work in the past then maybe try something different.
5. Do not fall into the trap of starting tomorrow
What is your inner "stuff" that will try to keep you from sticking to your plan? (i.e. fears, worries, doubts, negative self talk etc.) Can you specify the things you will say to yourself to push you off track? (i.e. "just one more bite, I'll start eating better tomorrow") If you need some guidance Madeline Kessler at the clinic is fantastic.
6. Connect
Is there a person or a tactic you can use to keep yourself supported, motivated, and focused in those hard times? I highly recommend connecting and sharing your new balanced life with someone. Find someone you feel comfortable enough to talk to or even someone to join in for your new exercise regime or meditation. You are not alone on your journey.
7. Stay on track and keep on your goal of creating a more "balanced life"
If you stay on track with this detailed and intentional process for three whole months, then there is a good chance you will create new habits to enjoy a more balanced life going forward! If you fall off track do not judge yourself but start again. Life is a process.